Improved Auto-resizing in Tables
Previously, tables in the GoodData Portal adjusted the width of the cells to match the content only in the visible columns.
From now on, Analytical Designer and KPI Dashboards adjust the width of ALL columns, not only the visible ones.
Learn more:
Pivot Tables
LDM Modeler: Autosaving a Logical Data Model as a Draft
When you are working on your logical data model (LDM), the changes are now automatically saved as a draft as you are making them. The draft is saved under your GoodData user, on the machine and in the browser it was created, and you can continue editing it whenever you are ready. When the LDM Modeler saves your draft, it displays a message and the time the draft was last saved.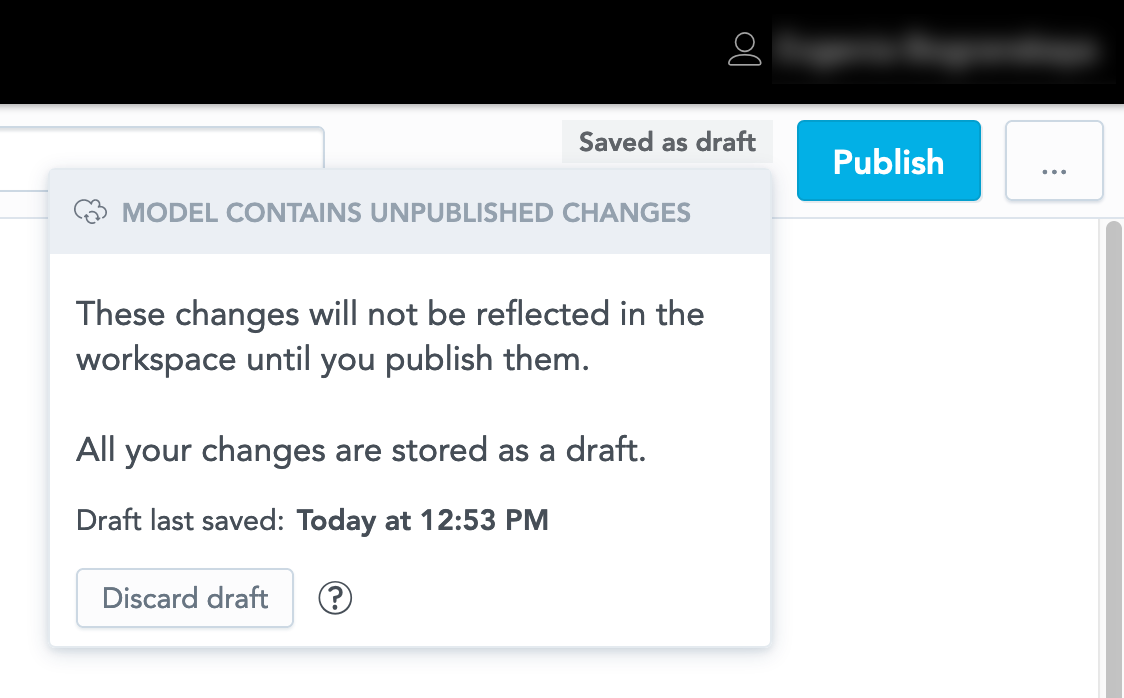 The draft is kept until you either publish the changes to the workspace or manually discard the draft (in this case, the last published version of the LDM is loaded in the LDM Modeler).
If you have unpublished changes in a draft and are leaving the LDM Modeler (for example, navigating to a different section of the GoodData Portal), the LDM Modeler will warn you about the unpublished changes and ask whether you want to publish them before leaving.
Learn more:
Update a Logical Data Model
Share Your Data Sources with Other Users
You can now share your Data Sources with other users in your workspace. You can grant users a permission to use or manage a Data Source.
When a user is allowed to use your Data Source, it means that the user can access this Data Source and review its properties (except for the values of secure parameters) and can use it when deploying and running a data load process.
When a user is allowed to manage your Data Source, it means that the user has the same permissions as a user who can use the Data Source (see the previous bullet), plus they can edit the Data Source, delete it, or share with other users.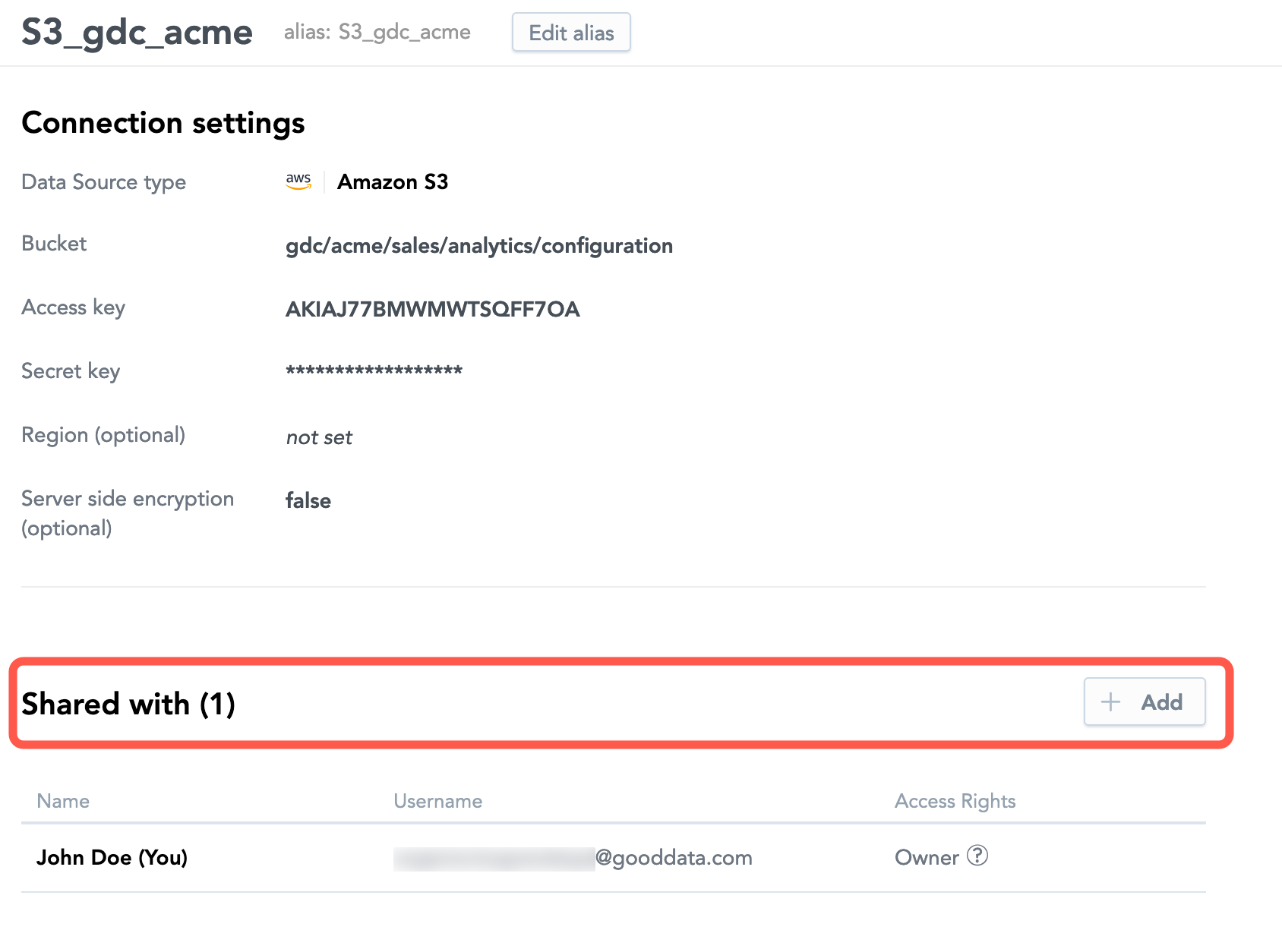 How can sharing a Data Source help you?
Sharing Data Sources can help improve the security of credentials used to connect to your data warehouse or object storage service.
For example, a domain administrator creates all required Data Sources and shares them with project administrators. This way, the project administrators do not have to create their own Data Sources and potentially duplicate them.
It also makes credentials rotation easier: the domain administrator rotates the credentials in all the Data Sources and the changes are automatically propagated to anywhere the Data Sources are used.
Learn more:
Share a Data Source with Other Users
GoodData.UI Version 7.x to Reach End-of-Support on November 5, 2021
Version 7.x of GoodData.UI reached its end-of-development on October 8, 2020. It is now in maintenance mode until November 5, 2021, when it will reach its end-of-support.
End-of-development means that the version will receive only security fixes and fixes for critical issues. These fixes will be applied on top of the last minor version. No new features will be added.
End-of-support means that the version will receive neither new features nor bug fixes. No technical support will be provided. While still available, this version is not recommended for use, and we encourage you to upgrade to the latest version, which is Version 8.0.
ACTION REQUIRED!
Upgrade your GoodData.UI to Version 8.0. We recommend that you do so as soon as possible.
Review the breaking changes in Version 8.0.
Follow our step-by-step Migration Guide that will walk you through the migration process.
Need more information?
To learn more about how different versions of GoodData.UI go through the life cycle phases and what level of support you can expect when using a specific version, see Supported Versions.
Google Chrome Extension Tool Improved
If you have been a GoodData customer for a while, you might be aware of the Google Chrome Extension Tool. This is a useful extension for the Google Chrome browser that allows you to:
Easily open the gray pages for a workspace's metadata, objects, and processes directly from the GoodData Portal.
Retrieve basic information about the workspace in two clicks.
Browse the information from the log files presented in a user-friendly format.

We have added more useful options to the Extension Tool and made the Tool itself more customizable.
You can install the Extension Tool from the Chrome Web Store.
Learn more:
GoodData Extension Tool for Chrome
UPCOMING: enableKPIDashboardExtendedDateFilters Platform Setting Removal
The enableKPIDashboardExtendedDateFilters platform setting will be removed in January 2021.
The KPI Dashboards will use only the extended date filter.
Customers with this platform setting disabled will be automatically switched to the extended filter.
REMINDER: Use TLS Version 1.2 or Higher Only
Support for Transport Layer Security (TLS) version 1.0 and 1.1 is deprecated and will end in one of future releases. We will announce the exact date as soon as it is set.
How will this affect you?
All modern web browsers and programming languages already support the newer versions of TLS (1.2 and higher). Unless you use obsolete software or unsupported systems, you are not affected.
You may be affected if you are using an older version of the libraries or programming languages in your tools. To verify, check the documentation for your tool:
ACTION REQUIRED!
Make sure that all your components and integrations use TLS version 1.2 or higher.
What will happen if you do not upgrade to the newer versions?
When support for TLS version 1.0 and 1.1 ends, if you do not switch to a newer version of TLS, the integration with the GoodData platform will stop working.
Learn more: